News
Subscribe to posts
On June 30, 2019, Department of Public Relations and Marketing of Technical Administration College held a workshop on Sales and Customer Service. The works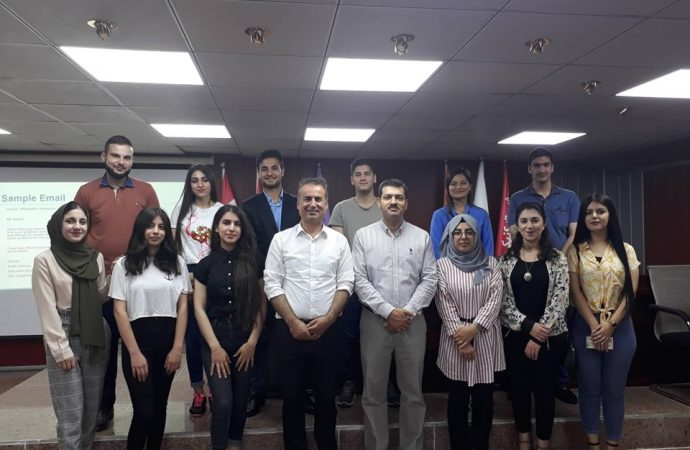 hop was organized at Seminar Hall and was attended by a number of PR & Marketing students.
At the beginning of the workshop, Dr. Karwan Ali, head of the department explained the significance and aim of the workshop for students' the professional career ahead. He also elaborated on the future plans of PR & Marketing and said that they'll work tirelessly to improve students' skills and to prepare them for the labor market on both local and international basis.
The workshop was then presented by Dr. Abdulqadir Rahoomi and is planned to continue for another three days.
In order to develop and enhance scientific research in the field of Information Technology and Computer Science, Research Center at SPU starts to operate some research groups for researchers and experts inside and outside the university to work in, if anyone interested in joining these groups and working in the above-mentioned fields, please kindly send us an email with your full name, phone number, and the research group you want to work with by 09/10/ 2018.
Research Groups:
Artificial Intelligence Applications
Software Engineering
Information Retrieval
E-Government
Networking
Educational Technology
Note: If you want to support our Research Center or aim to manage and work in a new research group (you have to be minimum three members), please send us your proposal to do so.
After a year of active involvement as Chief Iraq Liaison Officer in RASHID International organization based in Germany for Safeguarding of the Heritage of Iraq in Danger, Dr. Rozhen Kamal Mohammed-Amin, the Research Center (RC) coordinator, founder and head of Digital Cultural Heritage (DCH) group, and Lecturer at the City Planning Department of the Sulaimani Polytechnic University (SPU) was elected in absentia to the Board of Directors of RASHID International during the organization's annual meeting. Dr. Rozhen nominated herself upon a suggestion by RASHID International's President. As a member of Board of Directors and Secretary, she will participate in decision-making on the organization's plans and projects in a high level. Other members of the board are Dr. Simone Mühl (the Vice-President) from Ludwig-Maximilians-University of Munich Germany and Professor Dr. Luca Peyronel (Treasurer) from IULM University of Milan in Italy. Professor Dr. Roger Matthews from University of Reading in UK serves as the organization's president.  
In July 2017, Dr. Rozhen, along her RASHID colleagues, participated in the experts meeting and first UN Human Rights Council (UNHRC) seminar on destruction of world cultural heritage held at UN headquarter in Switzerland. Participating in two RASHID reports submitted to the Special Rapporteur in the field of cultural rights and the Office of the High Commissioner for Human Rights (OHCHR) were among some of Dr. Rozhen's activities with the organization last year. More information about RASHID's last year activities and Dr. Rozhen's involvement as Chief Iraq Liaison Officer can be found in the organization's annual newsletter: https://bit.ly/2H9mYz4
SPU lecturer's membership in such high administration level of an International Organization adds to RC and SPU's growing international achievements.
The Research Center (RC) coordinator, Dr. Rozhen Kamal Mohammed-Amin, was invited and accepted to become a member of the International Development Peer Review College in UK Research and Innovation (UKRI). As a member, she will review a number of research projects applied for Global Challenges Research Fund (GCRF) for up to three years.
It is worth mentioning that the RC coordinator is the only international reviewer from Kurdistan Region and the rest of Iraq, making SPU the only university from Iraq to have a reviewer in UKRI as appears in their website 
https://bit.ly/2GRECGJ
.
In the invitation email and later membership application form, Dr. Rozhen's involvements in GCRF projects and understanding of the UK research landscape from her join project application with a number of UK Universities and then her experience as a reviewer for a number of international conferences and journals were stated and indicated as reasons for her selection as an international reviewer. In addition to this, the RC coordinator is reviewing and will review a papers for related journals of a Greek institution and the renowned IEEE ISMAR international conference.
In an interview with the SPU website, Dr. Rozhen said: "I am very pleased with this achievement and high level academic role that demonstrates the impact of the RC and SPU on an international academic level. Despite the time commitment and efforts, I will need to dedicate to this responsibility in addition to my workloads from academic and administrative responsibilities at SPU, this is a great and rewarding experience for the new knowledge and unique experience I gain from the experience, which then become an energy and investment for enriching the RC and SPU's local and international research projects in the future".
As part of her membership commitment she already participated in two webinar trainings from UKRI on managing subconscious bias and guidance for reviewing for the Interdisciplinary Research Hubs GCRF's and priorities and criteria for assessing the submitted research projects. In a near future, Dr. Rozhen will share the non-confidential parts of her experiences with international reviewing and newly acquired knowledge with SPU and non-SPU researchers, academics, and young graduates through one of RC's workshop series.
UKRI has a combined budget of £6 billion for research. It brings together the seven UK Research Councils and others. For more information on UKRI, please visit 
www.ukri.org 
/.
The Research Center Coordinator Dr. Rozhen Kamal was invited as a chair of the first panel and a speaker in the 2nd panel in the 2nd International Conference of "Archaeology and Heritage of Hawler-Erbil", which was jointly organized by the College of Arts at the Salahaddin University and Hawler Governorate.
Researchers and academics from 11 countries and 38 local and international universities participated in the 2nd International Conference of Archeology and Heritage of Hawler-Erbil. The conference was held on May 8th-9th, 2018.



A Memorandum of Understanding was signed between Research Center of Sulaimani Polytechnic University and Center for Future Studies
Today, May 30th, 2018 a MoU was signed between Dr. Rozhen Kamal, Research Center coordinator and Dr. Omed Rafiq, Director of Center for Future Studies. This memorandum is a general framework for conducting research, holding conference, seminar and other collaborative activities between the two institutions, especially in conducting research and polls on issues related to Kurdistan and the region.
After the MoU was signed, Dr. Alan Faraydoon, president of SPU in a short statement said that an office in the presidency of Sulaimani Polytechnic University building will be dedicated for further collaboration between both centers.
On Wednesday June 27th 2018, the Planning Unit of the Research Center held "Effective Leadership in Higher Education" seminar for Mr. Awder Ahmad in which a numbers of researchers and academics from inside and outside university participated. The seminar was held at the international language center building, it started at 10:00 am and lasted about an hour.
Mr. Awder opened his seminar by asking attendees about the difference between boss and leader. After defining both, he explained different types of leadership and talked about how the success of a leader can simply be
 measured by the impact on his/her team members and surrounding people.
In the seminar, Awder also gave a detailed explanation on the existing social, economic and cultural barriers within the context of higher education that makes achieving plans and goals very challenging for the leaders. He later talked about the important skills and characteristics needed for every leader to become successful and effective in their roles. At the end of the seminar, 15 more minutes was given to a Q&A section and it ended up interestingly interactive and participatory as attendees had their questions answered on the topic of the seminar.
Mr. Awder Ahmad is a member of the Cultural Heritage Research Group at our Research Center (RC) and a lecturer at Technical College of Engineering. He holds MSc Degree in Network Technology and Management from University of Huddersfield- UK 2011-2012. He has participated in several training courses in the USA, Germany, and Netherlands and has published papers in a number of national and international journals.
In 2017, Mr. Awder applied to the Iraqi-American Educational Exchange Program and after some intense interviews and online courses for the period of six months, he was shortlisted and finally accepted as a participant in the program entitled "Leadership and Management in the Higher Education" at Appalachian State Universality located in North Carolina- USA between the period of 9th to 23rd of April. The program was in partnership with the (IREX) and U.S. Embassy, Baghdad. After successfully finishing the course, Mr. Awder is planning to present a number of seminars and workshops on the importance of the management in the universities.
The environmental studies group at the research center of Sulaimani Polytechnic University (RC- SPU) has won a collaborative work with the geo-chemistry team in the department of environmental science at University of Not
tingham from research board international collaboration fund on August 2017.
Even though the application was very competitive, the Environmental Studies Group could prepare a highly persuasive proposal titled "Evaluating the Factors Controlling Iodine and Selenium Transfer to the Human diet in Iraqi Kurdistan " t
o participate in achieving this competitive fund and researchers were able to eventually win the fund.
The aim of this collaboration is to provide an estimate of the daily dietary intake of Selenium and Iodine by the Sulaimani residents in Iraqi Kurdistan and actual Iodine status based on urinary Iodine measurements.  Researchers in the Environmental Studies Group demonstrate that "The results can then be used to advise whether further investigation of the Iodine and Selenium status of the population is warranted and if deficiency is observed, whether mitigation measures should be considered, for example, selected crop bio fortification or the use of Iodized salt ". Furthermore, "Working on this project is still ongoing and it is estimated to be completed by August 2018 ". Group Researchers explained.